---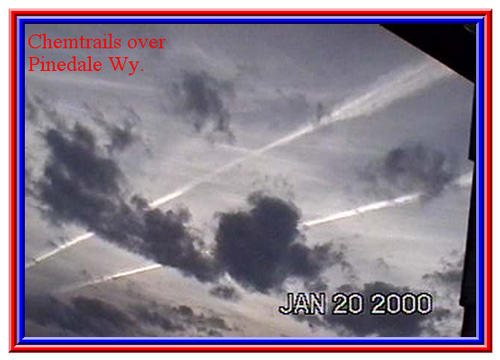 Chemtrails, The Whole Truth, #5
August 5, 1998
from: John H Ray, 916 Swartmore Court, Schaumburg, IL 60193
Congressman Philip M. Crane 233 Cannon Office Building Washington, D.C. 20515-1308
Re: Contrails that do not dissipate but expand into Sirus like clouds are affecting our climate.
Dear Congressman Philip M. Crane:
While watching the NBC evening news (7/27/98) they had a report that NASA scientists have been studying the effects of CONTRAILS on our environment for years. Satellite file film from 1997 showed numerous contrails that remained aloft for most of the day and expanded as much as 800 miles as it moved with weather systems across several States. NASA scientist actually flew specially equipped research aircraft along these contrails and "recorded unusual turbulence." NASA however avoided reporting the chemical particulate count and content of these contrails. As scientist, the inevitable question of chemical content requires an answer. What causes these contrails to stay aloft for so long? What is the chemical(s) particulate in these contrails and it's direct and indirect effect on our environment? NASA now believes "...increases of commercial flights and these non-dissipating contrails are causing excessive cirrus like clouds blanketing the skies. It could be a definite factor in Global Warming." It is really ironic that I wrote letters to practically everyone last year about this same subject and did not receive one "Official" response to my specific concerns. By the way that no response specifically applies to your office.I had called your local office several times for answers and was assured your local Staff Manager would call me back. I get return calls from your local office the same as your responses to my letters . . . NONE! As our ELECTED Representative YOU shield yourself by making it difficult for your constituents to gain access to your ear. YES, I HAD attended several of your "local meetings" which were for political and self-grandiose speeches and any serious discussions opposing your "political agenda" are never considered. Could that be the reasons for such low attendance? Of course your interpretation of this low attendance is indifference? Enclosed is a copy of my letter of Oct.17, 1997 for YOUR review AGAIN. Perhaps this time someone on your staff might read it this time and find it necessary to respond for you. I expect a response specifically related to my letter and NOT the usual computer generated response on some unrelated topic about airplanes.SincerelyJohn H Ray National Primary Drinking Water Regulations - EPA Technical Factsheet on: ETHYLENE DIBROMIDE (EDB) Drinking Water StandardsMCLG: zero mg/l MCL: 0.00005 mg/lHAL(child): 1 day: 0.008 mg/l; 10-day: 0.008 mg/l Health Effects Summary Acute: EPA has found ethylene dibromide (EDB) to potentially cause a variety of acute health effects, including damage to the liver, stomach, and adrenal cortex along with significant reproductive system toxicity, particularly the testes. Drinking water levels which are considered "safe" for short-term exposures: For a 10-kg (22 lb.) child consuming 1 liter of water per day, a one- day exposure of 0.008 mg/L or a ten-day exposure to 0.008 mg/L. Chronic: A lifetime exposure to EDB at levels above the MCL has the potential to damage the respiratory system, nervous system, liver, heart, and kidneys. Cancer: There is some evidence that EDB may have the potential to cause cancer from a lifetime exposure at levels above the MCL. Usage Patterns: Ethylene dibromide is mainly used (83% of all use) as a scavenger for lead in anti-knock gasoline mixtures, particularly in aviation fuel. Other uses (17%) include: solvent for resins, gums, and waxes; in waterproofing preparations; as a chemical intermediate in the synthesis of dyes and pharmaceuticals; and as a fumigant, insecticide, nematicide for grains and fruit. (It's a nerve-agent!) Persistence can vary greatly from soil to soil. In one laboratory screening study using 100 soils, half-lives ranging from 1.5 to 18 weeks were determined. In one field, ethylene bromide was detected in soil 19 years after its last known application; the long persistence was the result of entrapment in intraparticle micropores of the soil. Low Koc values and detection in various ground waters indicate that ethylene bromide will leach in soil. The relatively high vapor pressure (11.2 mm Hg) indicates evaporation will occur from soil surfaces. In the atmosphere, ethylene dibromide will degrade by reaction with photochemically produced hydroxyl radicals (half life 32 days). The primary removal process for ethylene bromide in surface water is volatilization. Under normal conditions, the volatilization half-life from a typical river and lake are about one day and 5 days, respectively. In ground waters (such as aquifers) where volatilization does not occur, ethylene bromide can be degraded by biodegradation and hydrolysis. Uncatalyzed hydrolysis is slow, with half-lives reported of 6 yr at 25 deg C, to 13.2 yr at pH7 and 20 deg C. But hydrolysis catalyzed by the presence of various natural substances (such as HS ion) may be competitive with biodegradation (half-life of 1-2 months). It reacts with photochemically produced hydroxyl radicals with a half life of 32 days or a 2.2% loss per sunlit day. Ethylene bromide does not directly photolyze when exposed to uv light between 300 and 400 nm. Biodegradation can be a primary degradation process in soil. A review of available biodegradation data pertaining to ethylene bromide concluded that ethylene bromide is biotransformed fairly readily in the environment; lifetimes can be as short as several days in surface soils and as long as many months in aquifer materials.Internet Discussions Witnesses a dozen or more witnesses of massive spraying and sickness call in on the 1/25/99 Art Bell show: Hear the Real Audio file at: http://ww2.broadcast.com/artbell/archive99.html#jan99 Also, read "Truth By Decree " at http://www.erols.com/igoddard/decree.htm More U.S. National UpdatesOREGON CONTRAILS from Clarence Napier (ranger@azwest.net) Dot; Here is another message from Don. in Oregon. Clarence Yes, I have a couple of samples- small ones. Here's part two. I didn't believe it at first and my wife then called Unsolved Mysteries. Our story matched their stories. A few days went by and I got my second sample. As the sun comes up you can watch it dissipate. It's like ice melting, but not frozen. It was a warm summer morning when I got the second sample with a syringe. I put it in a baggie and put it in the freezer. It froze immediately into a crystal frozen form. A few more days went by and in broad daylight an unmarked helicopter came hovering over our trailer. My wife was outside. She ran inside to get the looking glasses as I watched the helicopter. It started to head toward our pasture. When my wife came back outside, the helicopter swung back and came at her. She ran for cover. WE DON'T HAVE THIS KIND OF AIRCRAFT OUT HERE, AND NOW WE DO! I told a few friends that seemed to be in the same path and they got in on the second samples, too, at their place. Ruth is another lady that is scared to death. She gets bothered by these same helicopters. They are gray black or like a blue black. There have been more sittings by more people. They haven't bothered us since then, but other people have been bothered by the helicopters.Thanks, Don PS. There is a lot going on out here. It's a great cover. UN vehicles spotted - Russian people with escorts - Forestry has started to train the cops - and visa versa - and lots of UFO sitings out here.TENNESSEE CONTRAILS by Dot Bibee (DotHB@aol.com) I sent the following "experience" to Hal - a pilot. but I should be sharing it with everyone. Clarence Napier answered, "Thank you Dot, maybe when he sees what is really going on we could have a good helper in getting the info. out to the public." Clarence;At 03:52 PM 1/21/99 EST, you wrote:Hal When I first heard about the contrails from Clarence Napier in Phoenix, AZ - I told him that these were just "vapor trails". He asked me very politely to start watching - and I have. So that is what I suggest that you do. These are NOT vapor trails. Right after I started watching, sure enough one of these high-flying military planes when over - SPRAYING - not from exhaust - from a device (PROVEN) and right over the trail was a commercial airliner - who was leaving a vapor trail. The vapor trail dis-appeared almost immediately. HOWEVER, the contrail lingers and the cloud becomes wider and wider - making a small cloud in the sky. I have been posting the FACTS that both NASA and the Air Force admit to this activity. (from Joe Burton SBurton3@aol.com). Haven't you been reading my postings? It is also a FACT that these planes are spraying deliberately - not just an exhaust from their engine flying over. WHY else would they be making X marks in the sky. Yes, the same plane - cuts his spray off - then turns back around and makes an X. I have seen this with my own eyes. Federal Aviation Administration Facility Caught Launching Chemtrail Spray Aircraft by Val Valerian, April 12, 1999, Amended with more data April 16, 1999. It was reported to Leading Edge Research Group the afternoon of April 12, 1999 by one of the longtime readers of the Leading Edge Research Journal that the huge FAA Technical Center near Pomona, New Jersey, adjacent to Atlantic City Airport, was seen by him about 3:45 pm to launch three large olive green four-engine jet aircraft, which proceeded to circle around and fly over Ocean City. They began to emit a fog-like compound from the rear of the aircraft (not from the engines). The aircraft then turned and proceeded toward Atlantic City, New Jersey at an altitude of between 8,000 and 10,000 feet, with the fog-like spray continuing from the rear of each of the aircraft. According to the report, this particular FAA Technical Center is even larger than the Atlantic City Airport, and is capable of handing 747's on their runway. Experimental aircraft are also tested there. As an aside, this same individual took a tour of the facility in the early 1990's. After the tour had been going a while, he began to talk to one of the FAA supervisors that had accompanied the tour. While in the middle of a series of questions to the FAA supervisor, he asked, "Is this the place that alien technology is back-engineered?". Without thinking, the FAA supervisor replied, "Oh, no, we don't do that here, we ....", and suddenly got red in the face and appeared angry that he had spoken out. The official went out of his way to avoid the questioner during the rest of the tour. Any common sense approach to the "chemtrail" problem, which is happening over every major population area in the United States, would have to involve the knowledge of the FAA, the Department of Commerce, and more. The fact that scores of aircraft are pulling non-standard and potentially hazardous manuvers over cities all the time and continue to do so means that one or more areas in the government are involved with this insidious program. Now, we have one credible and verfied source for at least one launch mission. "Contrails" vs. Chemtrails From: Val Valerian, Leading Edge Research Group Subject: Contrail vs ChemtrailDate: 17 April 1999 I was just giving thought to this whole "contrail" thing. Scattered around are various messages about this activity , some of which claim to have pictures, videos, etc. I have had the chance to go over most of the websites on the internet about this phenomenon, and I notice that in fact the whole issue also involves a confusion between "contrails" and "chemtrails. Now, I would like to "ramble on" for a second about something specific. Isn't it convenient, in terms of this relatively "new" phenomenon, that the activities of these aircraft produce a trail SIMILAR to a "contrail", so that discussion of "contrails" (by those who poo-poo chemical trails) conveniently overwhelms discussion of chemical trails. If you look at some of these sites, like Ian Goddard for examples, they feature discussions which EQUATE CHEMICAL TRAILS with "contrails", then go on to "prove that contrails can't happen below 33,000 feet (etc)", so that "contrails (CHEMTRAILS) don't exist", and therefore "anyone who is claiming to see contrails below 33,000 feet coming from aircraft is nuts". Now, things that come from aircraft, in terms of aerial dispersion, can probably only come from 2 places - the wings/engines and the rear of the aircraft. The recent observation by my long-time friend in New Jersey about the FAA facility distinctly observed the materials coming out of the back of the aircraft, not from the engines, and the planes weren't much higher than 8,000 feet from the ground for as long as he observed them. Chemical trails. Nevertheless, discussions about my report on this FAA phenomenon (Amended 16 April 99) , and frankly 90% of the general discussion, continues to blandly and blindly talk about this in terms of "contrails", not chemical trails, which only provides the "opposition" with more and more weight as long as people blindly stumble into this "snare". Consider this: 1. Aircraft which are flying above 30,000+ feet can generate normal, fast dissipating contrails, while at the same time such an aircraft could decide to generate chemical trails out the rear of the aircraft, or out the wing tips (see #5) which would be confusing to the ground observer, and would be "hidden" under the weight of the "contrail" label. 2. In the reports I have read so far, aircraft have come as low as 250 feet above the ground spraying this material, and it seems that most aircraft that have been seen spraying have been seen lower than 33,000 feet, although multi-engine aircraft have been seen emitting normal engine contrails as well as colored sprays coming from the wing tips at higher altitudes. 3. A chemical trail laid out at a two thousand feet, for example, would by description be called a "contrail" by the public, because there is no other conceptual name for anything like this which would be observed by thepublic. 4. The slave media and medical authorities, especially on the internet, would by definition never report a large series of outbreaks of any kind (especially results of chemical trails) unless it were to the advantage of the orthodox medical system (promotion of vaccines and other profit- making biologicals). Despite this, you still hear people say, blindly, "I couldn't find any outbreaks on the internet, so there aren't any outbreaks". I think you know some people like this out there who are using this "argument". Ian Goddard himself did write a very good piece called "Truth By Decree" http://www.erols.com/igoddard/decree.htm which discusses the mental programming of the public by the media. 5. It is also a point that all everyone sees is a series of single chemical trails, not multiple trails as would be produced by the multi-engine aircraft observed, so it would seem that many of these "chem trails" might be coming from the rear of aircraft, not from engines, which again means they could never be "contrails". It is this kind of fact that became evident in the aircraft sightings in New Jersey. Photos of any kind, after the fact, would not make this fact immediately apparent, but the spacing of the trails is too wide to have come from engines, only from a singular source, probably the rear of aircraft. However, there have been sightings of material being sprayed from the wingtips, not the engines, as well, but the spacing of the trails we are seeing is greater than the wing length of most aircraft. All things considered, it is my personal opinion that we ought to relabel things, get rid of the phrase "contrails", and replace it with something more accurate, like "biochem trails", "biochemical fog", etc. Now, if there start to be more websites out there that label this phenomena properly, for what it really is, people will probably begin to see this whole issue in a more accurate way. Those who try to deliberately confuse the issue with "contrails" are either doing so out of ignorance, it would seem, or because they are part of an agenda which seeks to continue the coverup about this activity. I intend to implement changes on our page relative to this issue. If we don't collectively work together on this aspect of the problem, the whole issue will become more analogous to unidentified aerial craft versus swamp gas, which means that the activity will continue and more people will be compromised. So, a semantic issue can destroy all investigativeactivities. The current aerial activity is not precedental by any means. From the aerial experiments done by the government in the 1950's, to the deliberate spraying of Oregon residents in the 1980's by helicopters owned by Evergreen Aircraft (contractor to the CIA), to the "biogels" that have been falling in the 1990's in Washington State and other areas, seems that a long-standing program has been implemented that is meant to biologically affect the population. So this "phenomena", at least in terms of intent and action, is really not new. Making the problem more difficult to solve, in terms of getting people on common ground, are people who feel they can come into a discussion, or a report, and declare that the information is bogus, "because they said so". There are a number of people out there who have nothing useful to contribute, have done little or no personal research on their own, think they are the "lord validator" of other people's experience, and arrogantly parade around like someone gave them the keys to truth. We all know people like that, too. And, all these people do is attack or criticise every little nuance in an attempt to deride or divide any serious research effort, while at the same time go on to define what's "valid" and what's not, and expect people to kowtow to them, respond defensively to them and to give their power away. Now, honest people make mistakes, but these Pontifical people are their own worst enemy. The best thing to do is ignore them, let them espouse their "Klass" mentality, and carry on with the work. I really don't see the issue of chemical trails getting resolved soon enough, especially because of the issues discussed in paragraph 2 and 3 above, or until the resolution of this semantic issue is seen. In my opinion, for what it's worth, we ought to call a rose a rose. Look at the picture on the Leading Edge page concerned with this issue. Any average person would call them "contrails", but I never saw "contrails" like that, especially at the relatively low altitude, well below 33,000 feet. Many of the pictures make it difficult to tell a "contrail" from a chemical trail, but the one on our page is definitely not a "contrail". The ground can be seen and it's obvious these chemical fog dispersion patterns do not qualify as "contrails". I think an effort needs to be made to carefully select visual evidence that makes this distinction apparent, and to have those maintaining web pages on the subject (who don't dwell on "contrails") briefly discuss this sematic and scientific point, and then present evidence to show what is really happening. Please try and spread the word to those researchers making an honest effort, if you think what I have said makes sense to you.
---
Back To Transporter Room
"Back To **INFINITYs** Transporter Room"

BACK TO TRANSPORTER